As a proud member of Croydon Telugu Association (CTA) I wanted to reflect on one of the most successful years in CTA history. There were many memories to share, some 1 st timers, great charity initiatives and also some challenges.I sincerely believe the CTA is not just about attending a couple of events, it is an echo system made to deliver a sense of community through social, cultural, sporting and knowledge sharing sessions throughout the year.
The year began with Annual General Body Meeting (AGM) where interested members will come forward to form a new committee. Strictly speaking it was a case of banter and pulling few peoples legs to join, which paved the way to a new committee. If anyone has experience being in the committee, you will know that you have just made some new friends and you will travel with them through thick and thin for a year.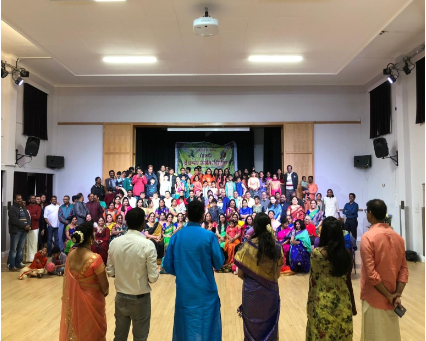 First event of the year is Ugadi and Sri Rama Navami, held at Wallington High School for Girls. People who are meeting after Christmas were catching up. The event was a mega success for two reasons, the exciting cultural activities and 1st timer couples dance. The pressure was on to get through the 24 events; however the committee managed to stay on schedule whilst still filling the hall with the joy and laughter of almost 50 families all bonding together and sharing the festive spirit. The new CTA committee got off to a great start with setting the bar for future events
As the year progressed, everyone had started enjoying the blistering heat of mid-summer, whilst school terms were coming to an end. The second event was CTA Summer Picnic and one has to admit the energy levels from everyone were matching the bright sunshine on the day. Many families brought the dishes for a delicious Pot luck lunch, finger licking stuff to be honest 🙂 . After lunch it was time to burn some calories, kids went their own way playing cricket,some even made kites. But the highlight of the day was moms playing the classic childhood games Ko and Kabadi. It seemed that none of the ladies had lost their skill I should say but it was surprising to see games ending peacefully, no shouting and no fighting 🙁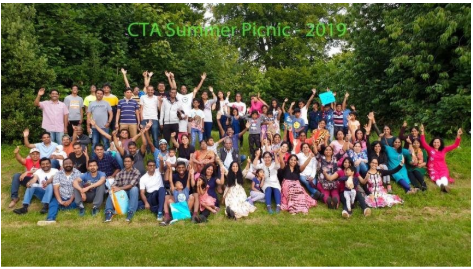 However the men's Cricket game had all the drama; protest, Duckworth Lewis, shouting, extra players on the pitch, you name it. But everyone was sportive enough to shake hands in the end, a special quality of men. Oh no, did I just make myself unpopular with previous statement. Anyways, all in all, it was fun filled picnic with lots of happy faces by the end of the day.
Unfortunately summer picnic was the last event for Venkat and Madhavi garu as they moved back to India. With heavy heart we had to say good bye to energetic and wonderful couple who made a huge difference to the community in short time with their selfless contributions.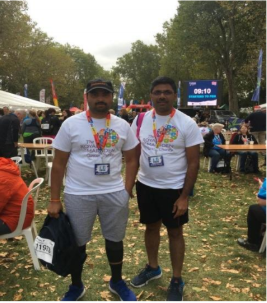 Summer school holidays are here, hurraaayyyyyyyyy!! Some went to India to see near and dear, whereas others did many late nights calling friends over. And unlucky few had to go through 11Plus grammar pressure:( But two gentlemen had other ideas;Jithendra and Praveen had taken up a huge Thames Bridges trek challenge to walk 25 kilometres to raise money for Royal Marsden cancer centre. Pleased to see great contributions from fellow members helping to raise nearly £1500. Let's just say hats off to their effort.
Then there was a Photo walk organised by Venu Munireddy at Surrey hills. Over 25 people trekking along woods and putting their newly acquired camera skills to test. The 10K walk never felt long as people split into groups and made some new friends along the way. The organiser pitted everyone for best photo of the day, which made the whole event even more interesting.
In no time summer was over and the chaotic school runs started all over again. As the year progressed into autumn,it was time for second major event of the year 'Dasara'. The usual Bathukamma event gave opportunity for mothersand daughters to sing and dance around the flowery deity. It was a joy to watch when little girls formed a circle and went around mimicking elders. Cultures and traditions are passed on to new generations by setting examples, and the CTA holds this proud tradition of celebrating Bathukamma close to heart. Long may it continue for many years to come. Again, a variety of programs ensured that everyone had fun, but one particular program caught everyone's attention, and that is Ramayanam skit by CTA children. I came to know that little kids in the audience had had their eyes glued to the stage and afterwards, went home and asked their very own questions about the skit. Curiosity is the first step towards learning. The ethos of CTA is to do many more of these skits in future, and slowly but steadily it will happen.
The days were now getting shorter, everyone celebrated Deepawali at home and families were preparing to wrap up for winter that loomed, however CTA committee had other ideas. Cold days should not dither the spirit to conduct a Badminton Tournament, again a 1st timer. With great enthusiasm 28 doubles teams took part filling the courts and showed their competitive spirit. After over 50 matches there were winners and runners in Mens, Women and Kids Mixed and Adult Mixed doubles categories. I call this as a DIY tournament, purely because each team was proactively finding their opponents and played the games. The volunteers were of great help too. There was a mysterious self made 3rd place men's doubles game appeared from nowhere, some of you know about this conspiracy:). All in all, tournament raised £ 120 (after expenses) towards CTA Charity.
Tired of reading about so many events? Well one last hurrah of the year, and that was the CTA Charity Event. This is a kids event, because there would've been no stalls without involvement from the kids. I heard Biryani, Waffles, Indian snacks filled mouths, and games filled everyone with enjoyment. Surprise Santa distributed gifts, elderly parents gave sports prizes, and a small pep talk from the committee ended the event successfully. Once again it proved that gloomy night is no barrier to the CTA spirit and generosity, raising over £ 700 towards the CTA Charity.
Along the year there were two Tech Events covering Technical and non technical topics. This program objective is to share knowledge with wider community so everyone can learn more about a new subject, whether its Big Data or Inheritance/Wills.
Last but not the least a special mention about Satya Kotni and Lakshmi Kotni, who took up the mantle on their own of getting sponsorship. They went around shops to raise over £ 180. They both deserve a big thank you.
A lot happened in 2019 and it is not possible without the time and commitment from 2019 CTA Committee members. So a big Thank you to Sai Prakash, Ravi Yalamanchi, Venkat, and Sushmitha garu.
Well members, I hope I have captured the key memories and essence of CTA community. I am pleased to see new members joining the events and celebrations each year. There is much more we can do collectively, particularly for kids. As I said CTA is an echo system to deliver a sense of community feel throughout the year through social, cultural, sporting and knowledge sharing sessions, and I think its safe to say that this has been achieved for another year running.
I am always thankful to be part of this wonderful community, long may it continue…